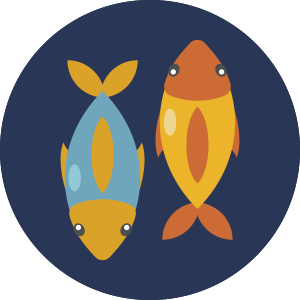 The lord of this zodiac is Jupiter. This is a zodiac of element called water. The individuals of this zodiac like to give advice people more. They are always believed wrongly that they are cleverer than others. They have a false notion that they are more intelligent than others. The individuals of this zodiac are fond of eating but they prefer less sweet compared to the people of Sagittarius. They love to have oily or fatty food.
This zodiac is having element of water by nature. They are much inclined and sensitive, emotional and soft. They have courage to keep their word or promises they have made. But such tendency leads them to disease like hyper tension, heart and palpitation etc. Their nature is highly amicable.
It is a zodiac sign that have dual nature. They also exhibit faith in religion. They love to perform religious customs as well. They generally become popular among the community for their nature. Person of this zodiac spend time for social works. Due to their dual nature, they sometime give up common task while do difficult work on another time.
The symbol of this zodiac is two fish that are shown in the opposite direction. The Pisces is the 12th and the last sign of the zodiac cycle. The individuals of this zodiac are very smart in their work and even they do not give any indication about their decision. However, sometime it is find that they are in the dual state of mind when the question comes to take conclusive decision in difficult situation. They also entertain doubt the complete the work undertaken by them so many times they lose good opportunities. They are fond of eating and traveling. They have strong physical build but they are delicate in appearance. Working according to the time, they also knew how to playing treachery. They even take up the challenge whenever it is necessary.
Their bodies are normally very oily. Nature wise they are good and amiable and sociable. However, they are considered to be narrow minded. They are highly sensitive but they equally know to change the other person. They prefer the company of women as their zodiac belong to feminine category and often, their body is also express female type characteristics.
Treatment
Primarily the person of this zodiac suffers from the disease like Diabetes, memory loss, tumor on body, orthopedic ailments, high blood pressure, mental inability and skin problems etc.
Such individuals should take half a spoon of the mixture of clove (Laving-લવિંગ), black peeper (કાળા મરી)and ginger(Sunth-સૂંઠ)with barley (Jav-જવ) in equal proportion in order to keep their healthiness. They could also experience the benefit for the health if they try to drink pure water after keeping it in either blue or black bottle under the sun rays of dawn for 1 or 2 hours.
The persons of this zodiac should get benefit by worshipping either lordShri Krishna or their Guruji.